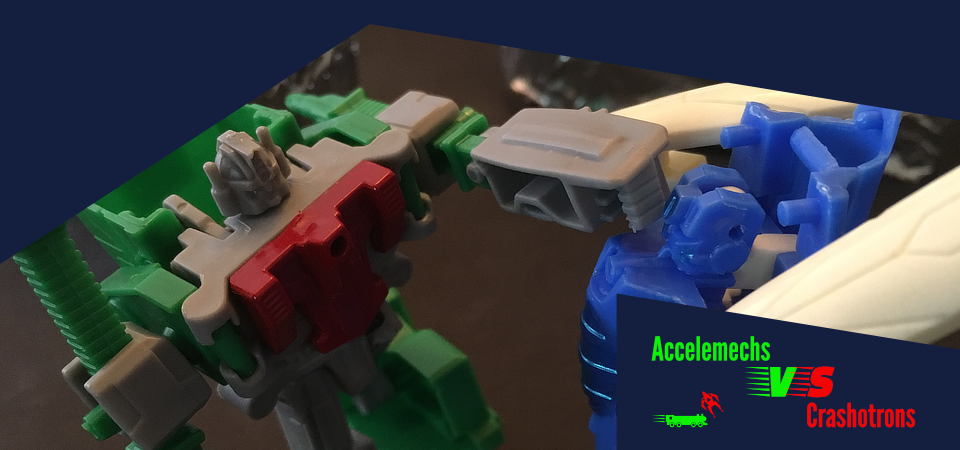 Accelemechs vs. Crashotrons
A toy wargame
for
wargaming with toys

About
Accelemechs vs. Crashotrons is a game you play with robots that turn into vehicles. You and a friend (or your sibling, or your child) will have your toys fight over an imaginary battlefield, with rolled-up socks and the toys' plastic fists as their weapons. The winner is the player with the last toys standing!
Accelemechs vs. Crashotrons is also an exploration of a design approach seen in H.G. Wells' mostly-forgotten (but very good) Little Wars. Rather than have detailed rules for terrain, cover, accuracy, and the like, these games take advantage of real-world physics to achieve nuanced outcomes without complicated mechanisms. If you want to play a miniatures game, but aren't entranced by heavy rulebooks, this game is for you.
I first played a something like this when I was a kid; after a day of hex-and-counter games, my father and I tried using dice as projectiles rather than rolling them. You might have done something similar. Mix your inner child with your grown-up strategic thinker, and enjoy!
- Tom

Play
• A fully-fledged miniatures game played with common household items
• 10-25 minutes
• Use toys you have . . . or take this as an excuse to buy new ones! (I won't tell.)

Page credits
Graphics by Delapouite, Lorc, and Skoll, licensed under CC-BY-3.0, game-icons.net.

Release date & info
Download
Click download now to get access to the following files:
Accelemechs vs Crashotrons.pdf
2 MB